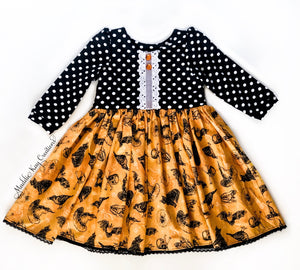 Dress Measurements:
2T chest 20" length 19.25"
4T chest 21.5" length 23"
6 Chest 23.5" length 25"
PRICE: $60
Description: Stay warm & spooky this Halloween with this 3/4 sleeve knit bodice dress. The bodice has a silver satin trim and sparkle buttons. Skirt features all of our favorite spooky items: Witches, Skulls, Ravens, and more.